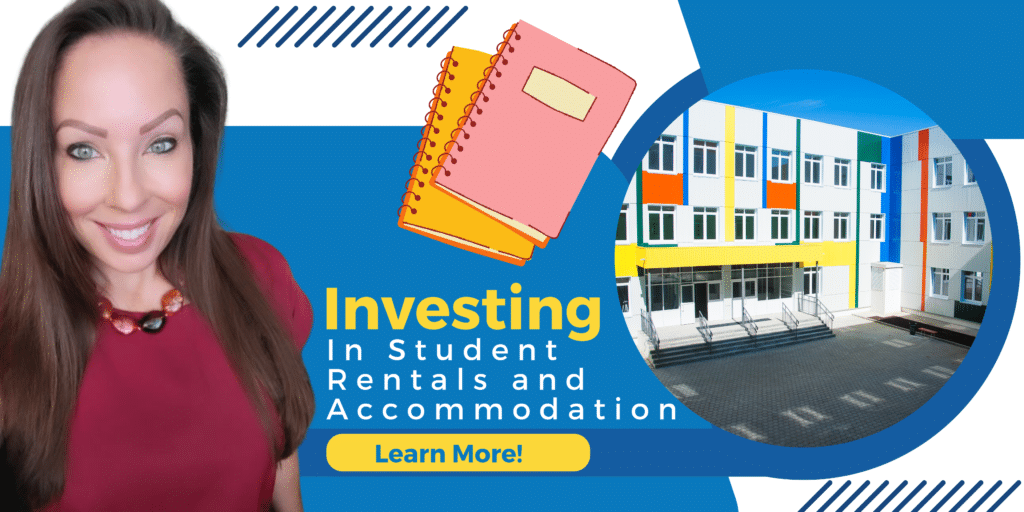 Student accommodations Toronto and across Canada, can be seen as a lucrative real estate investment. This is a specific real estate investing niche that has gained significant attention from investors for several reasons. With a steady influx of students seeking higher education in various cities across the country, owning student accommodations Toronto or properties elsewhere can seem like an attractive opportunity.
However, like any real estate investment, it comes with its share of advantages and disadvantages. In this article, we will delve into the pros and cons of investing in student accommodation properties in Canada to help potential investors make informed decisions.
ADVANTAGES OF INVESTING IN STUDENT RENTAL ACCOMMODATIONS ACROSS CANADA
HIGH DEMAND
Canada is home to several world-renowned universities and colleges, attracting both domestic and international students. The demand for student housing remains consistent throughout the academic year, providing landlords with a stable tenant base and reducing the risk of long-term vacancies.
PREMIUM RENT
Due to the competitive nature of the student accommodation market, landlords can often charge higher rents compared to traditional accommodation properties. In many college towns, students are willing to pay a premium for properties located close to campus or with added amenities such as furnished apartments, which can lead to increased accommodation income.
MULTIPLE TENANTS PER PROPERTY
Student accommodation often involve leasing individual rooms rather than the entire property, allowing landlords to accommodate multiple tenants in a single dwelling. This arrangement diversifies the income streams and spreads the risk of potential vacancies, ensuring a more stable cash flow.
SHORT LEASE TERMS
Academic semesters typically last around 4 to 8 months, meaning that student accommodation properties offer shorter lease terms compared to traditional residential properties. This periodic turnover provides landlords with the flexibility to review and adjust accommodation rates frequently to match market conditions.
FURNISHED OR UNFURNISHED
Depending on the preferences of the student population in the area, landlords can choose to offer furnished or unfurnished accommodations. Furnished units tend to attract international students or those seeking convenience, while unfurnished properties might cater to local students who already have furniture.
POTENTIAL FOR CAPITAL APPRECIATION
Real estate investments, including student accommodation properties, have the potential for long-term capital appreciation. Investing in areas with strong educational institutions and infrastructure development can lead to increased property values over time, resulting in significant gains for investors.
Disadvantages Of Real Estate Investing In Student Accommodations Toronto & Across Canada
HIGH TURN OVER RATES
The short lease terms, while advantageous in some respects, can also lead to higher turnover rates in student accommodation properties. Frequent tenant changes mean more administrative work and the possibility of periods without accommodation income between semesters.
PROPERTY WEAR & TEAR
Student tenants may not always prioritize property maintenance, leading to increased wear and tear on the accommodation units. This can result in higher maintenance and repair costs for landlords, reducing overall profitability.
SEASONAL DEMAND
The student accommodation market experiences seasonal demand, with higher demand during the academic year and potential vacancies during summer breaks or holidays. Landlords must be prepared to manage their cash flow effectively during periods of reduced demand.
NOISE & DISRUPTION
Living in close proximity to student-heavy neighborhoods might subject property owners to noise and disruptions, especially during celebratory events or exam periods. This can impact the overall desirability of the property for non-student tenants.
PROPERTY MANAGEMENT CHALLENGES
Managing student accommodation properties requires a particular skill set and understanding of the unique needs and challenges of this tenant demographic. Landlords must be prepared to address student-related issues promptly and handle conflicts between roommates, ensuring a harmonious living environment.
LIMITED TENANT POOL
The student accommodation market caters exclusively to the student population, which means that landlords may face limitations in finding tenants outside of the academic community. This can pose challenges during periods of low student enrollment or if the local educational institutions experience a decline in popularity.
Investing in student accommodations Toronto and student rental properties across Canada comes with a unique set of opportunities and challenges. While the high demand, premium rents, and potential for capital appreciation can be appealing, landlords must also consider the high turnover rates, property wear and tear, and seasonal demand.
To succeed in this niche market, investors should conduct thorough research, understand the local student accommodation landscape, and be prepared to manage the specific demands of student tenants. With careful planning and management, investing in student accommodation properties can be a rewarding venture for those seeking to diversify their real estate portfolio in Canada.
Interested in other articles about real estate investing such as "How To Use The Smith Manoeuvre To Invest In Real Estate" or "How To Finance a Rental Property", click here for more.
Thinking about buying, selling, or investing? Let's chat! I can be reached at 647.896.6584, by email at info@serenaholmesrealtor or by filling out this simple contact form.
For plenty of other great content, make sure we're connected on social @serenaholmesrealtor and you've subscribed to my YouTube Channel.